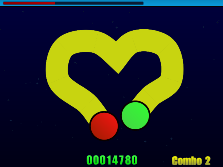 Who knew playing with your mouse could be so much fun! Ummm. Anyway
Zoglu
created this very neat game called the yellow shape. The gameplay is original and fresh and will bring out your inner self to beat everyone in terms of highscores.
Comments from the author:
This is a game I made one month ago. When I saw the Mouse Control Game Compo, it reminded me of this game, so I decided to translate it, and then to submit it So, it's named The Yellow Shape. The goal is to follow the (yellow) shapes which appear on the screen with your mouse, by clicking on a red circle at the beginning, and the reaching the green one. Your time limit is shown by a depleting red bar. The faster you play, the more it is refilled. There are also some bonuses, and a combo system : try to follow many shapes without any miss to score much more points. Up to 5 difficulty levels are available (some of them need to be unlocked, as well as some bonus options).

Click here to download the game and read its reviews.