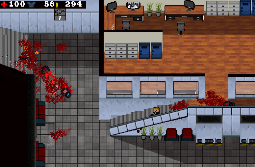 WoW folks we have a nice surprise in the middle of the week for ya!
WillyC
has uploaded his latest game: Sub-Zero Condition 2: Power in numbers. The game that was featured in last months Klikcast is now here for you to play! I almost can't contain myself, this is a must download!
Comments from the author:
After almost 2 and a half years it is finished! Well, it's not completely finished, there are some known bugs I've ignored, but hopefully nothing that makes it unplayable Game Details: In SZC1 you wake up in a city with no memory. You are fighting monsters and zombies. In this new game the story continues right after the last one left off. It shouldn't be much of a problem if you haven't played SZC1, the intro summarizes the first game.

Click here to download the game and read its reviews.