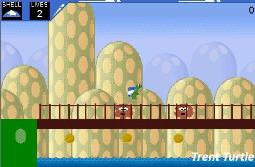 2 games for the price of 1 download! Woohoo!
Craig Tait
uploaded 2 of his old platformers but they are still fun to play and kind of remind me of the old mario games somehow.
Comments from the author:
Trent Turtle has 14 levels and uses the *gasp* default platform engine. Trent 2 uses a custom engine *phew* and contains 13 levels each with optional crystals to collect, some levels with multiple routes to the finish. Neither game is visually impressive but don't let that put you off, I reckon they are good games, wouldn't have uploaded them otherwise. Thinking of making a third and improving on everything but until then hope you enjoy the first two!

Click here to download the game and read its reviews.