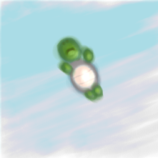 What's new lately you might ask? Well.. Lots of great games were submitted this week, be sure to give them all a go. And yes the Poll has been updated, so be sure to cast your vote on the exciting question "Are you currently working on a game that you intend to finish?"
Also the desktop compo is still running for folks who did not submit a ultra cool desktop yet, and yes i will upload them all to the dc server so they will stay online for years to come (yikes). Compo ends tomorrow!
In todays news
J.R.P
started a new
Oekaki compo!
in the forums, you can find the link below but some people are really going crazy with it, good stuff in there. That's all for today folks! Well apart from the news i noticed today were microsoft is thinking of replacing its HD-DVD add-on drive with a blue-ray one. Crazy Stuff!
Click here to go to the Oekaki Compo Forum Page.