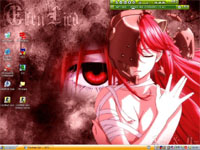 Its time folks! First i wanted to thank everyone for participating in this months Desktop Compo, we have many great desktop's this year.
Now its time to vote! You can first make your selection on our special Desktop 2008 page on the link below. Once you made your pick you can vote by name on the General Poll box on your left. Good Luck to all!
The picture you see with this new post is 2005's Desktop Winner: Ecstasy. Both Ecstacy and nastyman tied for first place back in 2005. Polls close this wednesday! Ps. If i forgot anyone or i made a typo in the names do please let me know. Oh and let us know who you voted for and why. Enjoy the vote!
Click here to make your selection for Best DC Desktop 2008.