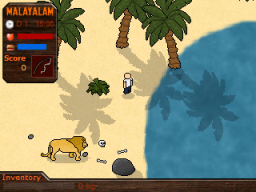 MJK
is working on a very interesting game called: Island of Mysteries. In the game you wake up alone on a island and you have to discover what the heck is going on. Check out Mjk's project page below for many updated. If you have a project running and you want to have it displayed on the front page for some feedback next week, let me know by DC mail.
Comments from the author:
Malayalam is a project I've been lately working on with another developer. It's basically a puzzle adventure, where the player finds himself on a large mysterious desert island. He has to explore the unknown environment, learn to survive in it, find food, items and tools to use and solve all sorts of missions and quests, which can be found all over the island. It's not a normal island, instead some very strange things are going on... it's the players task to reveal these mysteries!

Click here to check out the project and check some pics.
Speaking Of Projects, if you go to the project right now, Clubsoft added a cool new feature to the page. Its called..

are ya ready?
Faves
Yes! Faves! If you think the author is putting some effords in his project page or you think this is a game that others should take a look at? Then you can now Favourite it! It works really well actually so give it a try. If this works out Club is also willing to attach this to other pages to. So let us know what you think.
That's it for today folks, until tomorrow!