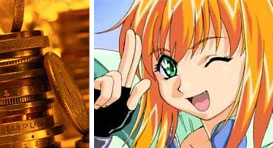 We received a donation today from
Krisna Sarith
Thanks Krisna for helping keeping the site running! And supporting us! As you may have noticed the front page updates on the site have increased and we will try and keep it that way from now on.
In other news Club has been working on the site here and there and one thing you might notice is that the "stars" have received a upgrade, nice! It looks like Adam is currently winning in the desktop compo poll, followed by DrJames!

If anyone remembers the game Lilykin created by Adam for the recently ended mouse compo, he just uploaded a project page on a total -remake- of the game, you can find more info on the link below. That's all for now folks! Remember if you uploaded anything cool, games,project or article, let me know!
Click here to check out Adams latest project.