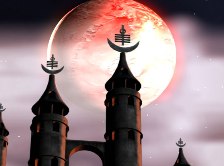 Its a dark and misty night, when you walk up the hill in the distance you see a light burning, as your eyes get used to the darkness the light becomes clearer and you notice a dark gloomy castle awaits you on the other side of the mountain! ... .. Wha? Anyway! Just wanted to let everyone know that
Newt
has updated his latest project that's "2 years in the making" The Ion adventures! I for one can't wait to play this!
Comments from the author:
The Ion Adventures is a Platformer/Adventure game for Windows. Itís been in production for over two years now, and when it is complete in Spring 08 it will include over 35 levels, several bosses and much more! The Ion Adventures is all about simplicity. It is clean, old school, no gimmick fun. If you enjoyed games like Sonic, Mario, Sparkster, Astal with an interesting and involving story line, you certainly will enjoy The Ion Adventures

Click here to check out the Ion adventures project page.