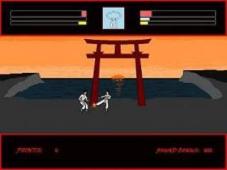 If anyone remembers IK+ on the good old amiga or commedore 64, then you are going to love this game. Created by
Graeme2408
its old school Karate folks! And i'm loving it, we need more games like these!
Comments from the author:
'The Way Of The Empty Hand' is a retro-style 1 on 1 fighting game, based on Karate. There's no jumping around the screen, no throwing fireballs, just pure fighting. Your goal is to take your karateka (someone who does karate) from a novice white belt right through to becoming a 10th Dan Black Belt master. You fight through a series of gradings to earn points which you can spend 'RPG' style to 'Level-up' your fighter. As you progress through the different belts, your fighter becomes tougher, more powerful, and learns new fighting moves.

Click here to download this game and read its reviews.