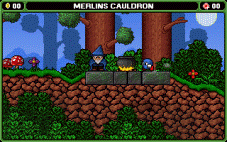 ChrisD
has uploaded his latest project today called Spud's Quest, he has been working on this one for some time now and the final version is looking amazing! Head over to his project page for many more pics.
Comments from the author:
Spud's quest is a platform adventure puzzler in the same vein as the classic Dizzy series by The Oliver Twins. King Arthur has sent out an announcement across the whole land that he is looking for courageous treasure hunters to aid him in the search for three ancient magical artifacts - the golden chalice, the golden purse, and the golden shield.

Click here to check out the Spud's Quest project page.