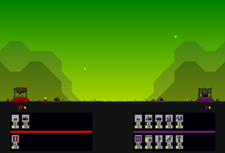 grickmin
graced us today with his latest game called Somiumstrike 2 (try saying that 20 times in a row) In any event this is a really cool and original game, check it out!
Comments from the author:
Somiumstrike 2 is a strategy game which is about to destroy the enemy base. To do this youŽll have to upgrade your age to gain new improvements and units, to collect coins, and of course to survive and battle your enemy! Includes: - 10 multiplayer stages, 5 different AI difficulties, 2 new units, 2 new improvements, Better menus, Guide to all units and improvements, Improved graphics and Other stuff

Click here to download this game and read its reviews.