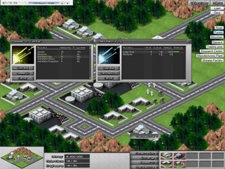 You know the small screenshot does not really do it justice. Alien invasion is a new project created by:
Retainer
And it is looking to be amazing! RTS fans here is something else to put on your christmas list for next year:)
Comments from the author:
Ever played XCom? Ever played Caesar? Ever played Command & Conquer? What I am trying to achieve is a perfect mixture of the best elements of these three games. In 2012, one of NASA's newly launched EDS (Earth Density Scanner) satellites picked up a strange deviation in a mountain near Switzerland. It seemed like the core of this mountain contained a material never found on earth; a material that emitted particles without getting disintegrated at all. This was later to be called Zeonite. You, as the chief executive of an internationally united research organization, are assigned to gather and investigate this strange but interesting material. However, You ain't alone at the scene...

Click here to check out the Alien Invasion project page.