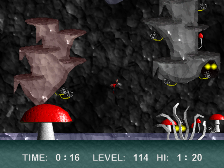 Booga-Boo was uploaded last year but only received 7 downloads, it deserves better then that. Recently the maker of this game
Simon Czentnár
made some updates to it, so why not give it a second going? Btw if you find any old games that was overlooked, let me know!
Comments from the author:
A little flea called Bugaboo has fallen into a deep gorge, and it's your job to get it out as quickly as possible, reach the top of the cavern in which it has become trapped. The cavern is made up of various ledges and platforms which you can use to work your way to the top.

Click here to download this game and read its reviews.