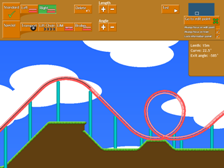 Who knew that something like "Roller Coaster" created by
Nick!
could ever be done perfectly using click tools, and yet wow here it is!. This project is a do-it-yourself RollerCoaster game! And guess what, its coming soon folks! Check out the project page for a gameplay video.
Comments from the author:
This game gives you much more freedom than in Rollercoaster Tycoon, you can craft your own pieces to bend the track into any shape you want. Then when you're done, you click the run button and your coaster is away! Each level will have a terrain, and various standards that need to be met. At the beginning of each level you are given a set length of each type of track to build up your coaster with

Click here to check out the Roller Coaster project page.