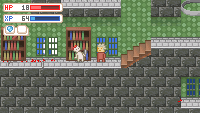 Alspal
has combined a platformer with some rpg elements sprinkled inbetween, and it works perfectly in his latest game called: Ainevoltas part 2.
Comments from the author:
It's been 11 years since the defeat of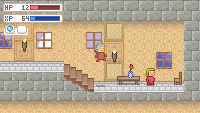 Azazel, monsters have invaded the castle again. Justin is asked back to the castle and to find out who is behind the invasion this time! This game is basically a platform game with some RPG elements. It isn't incredibly long, but I hope your able to enjoy it a least a tiny bit. Basically this game plays pretty similar to the previous. Ainevoltas if you have already played it.
Click here to download this game and read its reviews.