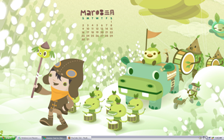 And we have a winner folks!
Adam
has won the 2008 desktop compo with 14 votes! Lets give Adam a round of applause for his cool desktop! And he will be receiving brand new dc-points once the new system goes active. Congrats!
Runners up were Dr James with 8 votes and Pozik with 7 votes. Nice! You can view all the entries on the link below.
Click here to check out all the entries for the desktop 2008 compo.