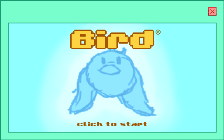 Its a bird! Its a plane! Its.. no it is actually a bird!
Vertigo
wants us know about a game he submitted back in January that deserves a second look, so here it is! Remember if you find a new or old game that deserves some front page goodieness, (is that a word?) Then let me know! (On a side note does anyone here enjoy a Twix as much as i do, a cooky surrounded by choco, oh my!:)
Comments from the author:
This is my first game I upload to The Daily Click, so, Hi! The game is simple called Bird, and is about a young, blue bird searching for stamps. Sounds kind of lame but I think its pretty addictive Play beyond the first two missions! (you just need to collect coins in those but after that you get different missions!)

Click here to download this game and read its reviews.
Ps. Also be sure to vote for our new Poll "What do you do when MMF/TGF crashes?"