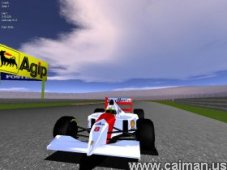 Check this out
Johnny Look
brings us a racing F1 Simulator! Its not a click game but that should not mather. Johny is looking for your feedback on this one.
Comments from the author:
F1 Legends is a F1 simulator, based on the glorious season of 1993, featuring some of the greatest drivers of all time, such as Ayrton Senna, Alain Prost, Michael Schumacher and others. Race for the best lap times of the world and compare them with other player in the online times table ! Features: -Realistic physics thanks to the Tokamak engine, Highly realistic gameplay, Powerfull particles system, Real-Time car damage, The cars have stats, from the handling (which is affect by many other factors) to the reliability.

Click here to download this game and read its reviews.
Also in other news
Newt
is looking for beta testers to test his latest jaw-dropping game The Ion Adventures, if you want test it send Newt a quick Dc-Mail.
Click here to check out the Ion adventures project page.