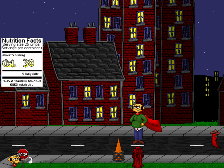 OldManClayton
wanted to let us know today about his last game that got overlooked when he submitted it 2 weeks ago. This is only a demo and he is looking for some feedback on it, give it a go and let him know what you think on his download page.
Comments from the author:
The first very Alpha Balding Overweight Man Demo! Many things yet to be implemented. There are some bugs. I know the intro cape animation stinks, I need to redo it along with some others. I will add more background buildings and platforms.

Click here to download this game and read its reviews.