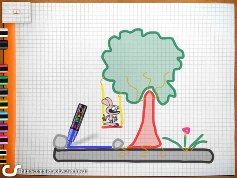 Sometimes you notice something and you wish you noticed it sooner. This is certainly the case with
Sphax's
fantastic new project called Physic Draw, a beta can be downloaded on the project page. With this you can draw something, and then give it life. It works really well, be sure to check it out.
Comments from the author:
I'm proud to present you an example of what can be done thanks to the "Vectorial Shape object" and the "Phizix Chipmunk object". This is a paper board where you can draw what you want... and see your draw in life.

Click here to check the project page for Physic Draw.