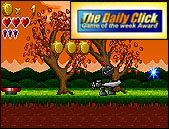 So i was looking at the GOTW page today and I noticed that many of the links to the older games are not working anymore. It is a shame because so many good games are just getting lost over time.
I was wondering if any of you want to help me out and find some of the games that are missing, i have to check with club about the space issue but i want to try and upload every gotw game so it can be preserved for years to come.
What do you guys think about this? Share me your ideas and comments.
Click here to check the games we are currently looking for.