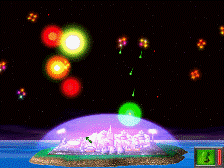 Kisguri
is working hard on his latest game called: Incursion. A very unique game where strategy and action is wrapped up together in a very cool game. Check out the project page for much more info.
Comments from the author:
Gamesare Studio's Incursion Blends Arcade action elements of classics like Missile command and classic static shooters, with strategy and technology development, manage your base by day and defend it at night using the technologies you unlock, Check out a early playtest vid here!


Click here to go to the Incursion project page.