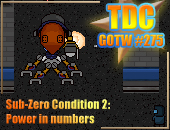 With a whopping 33 votes this weeks winner is Sub-Zero 2 Power in numbers! created by
WillieC
Lets give Willie some congrats on winning!
For this week we have the following games for you to pick out of: Ballzoid , Ainevoltas 2, Somiumstrike 2, The Way Of The Empty Hand, Toaster Madness and Epidemic - The Game.
Good luck voting this week folks and thanks to Adam for creating our spiffy new GOTW Picture.