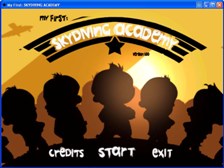 Paul
is bringing you a very unique game called: My first Skydiving Academy were you have to save a baby from falling to the ground. The game also shows off very well what can be done with mmf's HWA. Paul is asking for your suggestions and comments so be sure to let him know!
Comments from the author:
The game can be sumarised as a fastpaced toddler skydiving game, without the parachute, its based of a randomly generated name I got for the competition. The game was made in MMF2 HWA in direct x 8 mode, it features ragdoll on enemies, your baby, and foliage and alike. This build features three replayable themed levels where your baby is thrown down into a canyon from a passing plane without a parachute and it is up to you to avoid obstacles as the toddler gains momentum and begins to ignite from the sheer speed, just like a space ship on re-entry!


Click here to go to read the reviews and download the game.