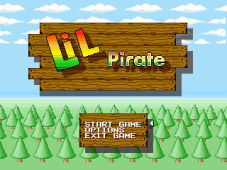 AndyUK
brings you a new demo of his latest game called: Lil Pirate! He is looking for suggestions so be sure to check this demo out.
Comments from the author:
I wasn't going to release a demo but i've hit a bit of 'writers block' or whatever the equivalent is for Indie game developers... So, the game! It's 2d platformer inspired by the gameplay of the old arcade game The Newzealand story. There are a variety of different weapons found in the levels (not all seen in the demo) that can be used to get to goodies as well as kill bad guys.

Click here to check out the project page.
Also Tim let us know about a new indie site he just opened called:
ToastFace
What a great name! He is looking for comments on our forums so, check it out!
Click here to check the new ToastFace forum topic Tim created.