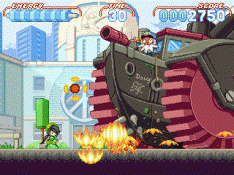 ZeroTau[FA]
just uploaded the now famous Noitu Love 2 Demo, if you have not checked this out yet, then run to the download page now and download it! Even if you already played it please post your impressions on the download page.
Comments from the author:
The year is 2288. The city is protected by an organization called "The Peacekeepers League" and everything is swell except for that it's under attack! By a robot army lead by professor Darnacus Damnation!! Or is it... ? The game shares little in pacing and action to Noitu Love 1. It is more of a continuation on that universe, so expect much more mindless action!

Click here to check out the download page for the Noitu Love 2 Demo.