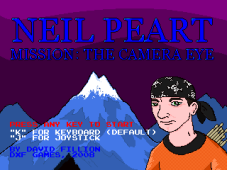 What could have been a normal wednesday is now changed with the release of
Del Duio's
latest game called: Neil Peart- Mission: The Camera Eye. Rock on!
Comments from the author:
Hours before the show, Neil announces to bandmates Geddy and Alex that he wants to finally play their lost epic "The Camera Eye", as a show of thanks for the almost 200 years of support from their fans. Horrified, Geddy and Alex attempt to lock Neil backstage and teleport his giant piece drumset into the icy caves of Xanadu. Never more shall they return! Little do they know the evil plans of the Portnoybot 1000 will turn everything they all know upside down! Can Neil Peart escape his prison and travel to the Icy caves of Xanadu to assemble his drumset again?

Click here to check out the download page for Neil Peart.
Also not to overlook is a new donation by the always generous
Joshtek
Lets give him the 2 thumbs up folks! Thanks Josh!