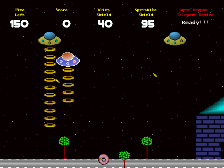 First off we received a fun new game called: Charlie the Doughnut and the Alien Menace created by
Alpha
Check it out!
Comments from the author:
You are Charlie, a simple inhabitant of a planet that has just being attacked by an horde of bloody aliens! In the beginning, you try to hide from them and search for a good shelter, but when you realize that there are no safe places anymore, you decide to battle the aliens and stop the menace by yourself.
Click here to check out the download page for Charlie.
In other news we also received a new
Donation from Nillo for 15 pounds~. Thanks Nillo because of all the donations we can keep the DC engine running!