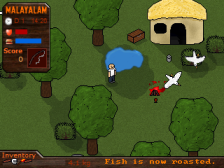 MJK
updated his project page today with a youtube trailer of his new game Malayalam, this looks like to be a very original and fun game to play so do please check out the trailer. I can't wait to play this!
Click here to check out look at the project page for Malayalam.
And wow this following news brings me so much pride and joy because we received another donation today folks! This time 25 pounds by
Ricky Garces
Thank Ricky, i do not know what to say! Lets also give ricky another group hug!! :)
And hey while we are at it why not download this fun new puzzles by
Bela
called Romucon Laser Pack. You just got to love the lasers!
Click here to download Romucon Laser Pack.