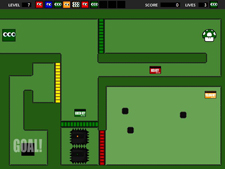 Valentine
has been working on a spiffy new puzzle/action game called: Blockmaster! Hey you can't go wrong with blocks!
Comments from the author:
My First project which i'm now around 3 months into titled "Block Master" i'm creating with Multimedia Fusion 2. Basically this is mouse controlled game in which you the player must guide the little block characters with the mouse through the maze avoiding the challenging obstacles to reach the goal. Block Master is Still a working title.
Click here to check out the project page for blockmaster.
Andddd if that was not enough
Valentine
also donated 5 pounds! WoW thanks Valentine! Lets give him the super thumbs up!