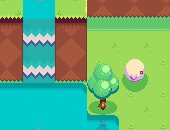 We proudly present DC World! .. And yes this time we will finish it! Flava, club, Adam and myself were talking in the new chat a couple of days ago thinking how cool it would be if the chat was more graphical, from that point Flava did his coding magic combined with Adam's graphical magic, before we knew it, DC World was in beta testing! And it runs pretty darn well. Right now you can already walk around, talk to other folks and show how you feel by your characters different emotions. Flava will keep you updated on the following project page below but we are all determined to bring this out to the public when it is ready! Can i hear a oh yea!! :)
Comments from Flava:
We have so many ideas for this project, that there are too many to explain here. To put it simply, we're starting with a basic engine and are simply going to add things to it until it's good enough to release. You can find updates and such on this page, and you can also give us your feedback and suggestions.
Click here to check out the project page for DC-World.