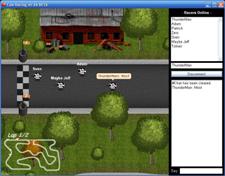 Mooo! Cowracing the online racing game discussed in klikcast episode 1 is now making its public appearance in the form a cool new beta. The game is great so if you want to race against some other clickers, well then now you can! Moo!
Comments from Flava:
Welcome to Cow-Racing! For those of you that have not seen this app yet, Cow Racing is a fully online racing game that is played in an overhead perspective. For those of you who played the earlier version of Cow-Racing the game has come a long way, and lot's of bugs have been fixed and features added, so give it another go.
Click here to download the beta version for Cow Racing.