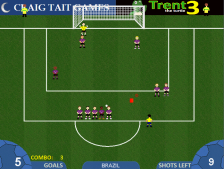 Rikus passes the ball to shab, shab run across the field, he runs, he makes a go for it and.. he SCORES!! Yaaaa!!!! .. Famous clicker
Craig Tait
has released a quality free-kicks soccer game to the site today! And you know what, we should have more sports games on this site! If you are a soccer fan or heck even if you are not, check this one out and score!
Comments from the author:
A football (or 'Soccer' for americans ) game. Score as many freekicks as you can! Feel free to post your score here, it will be interesting to see how many goals people get.
Click here to download FreeKicks.
And hey if you want to give your brain some exercise why not try out
Zoglu
fun and original math style out! Nice job actually! Comments from Zoglu:
The goal of Calculix is to find the results of the operations which are scrolling on the playfield, before your time limit expires. To do so, you click on an operation, then you type the result on your keyboard.
Click here to download Calculix.