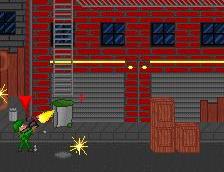 TheCalimero
has been hard at work on his latest multiplayer game called: Friendly Strike 3. He updated his project page with some new pics this week. Have a glanse at this soon to be classic game!
Comments from the author:
Friendly-Strike3 is the successor of is brother Friendly-Strike2. Some little things: -New engine, More weapons, More Arena, Two BIG things: A powerfull Arena Editor & Online Fight. It's always a frenetic multi-player arena fight game between fun and tactics.
Click here to go to the project page for: Friendly-Strike3 .
And hey if you take a look around the site we also have
2 new reviews
for you. The first one is
Legacy of Flan 4: Flan Rising.
reviewed by Rick (AntiMatter Entertainment. And
Charlie the Doughnut and the Alien Menace.
reviewed by Shroomlock.
Keep those reviews coming folks i'm going to try and see if we can place review links on the download page, next to the game that is being reviewed.
And to round things off for today we have Comet Ball created by
codemonkey
It is his first game uploaded to the site and it is getting some great feedback. Join in, can't wait what he will create next, well done.
Click here to download Comet Ball.