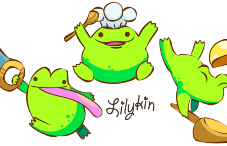 Adam updated his project page today for Lilykin with a video that just blew me away. The effects used in this game combined by a very original style of gameplay is in my opinion going to be such a winner. I can't wait to play this one!
Comments from the author:
So I haven't actually worked on Lilykin for a couple of weeks. Ive had graphics to make for people, and I also like to toggle between pixel-art and photoshop art... depends what mood I'm in. Any howski, here's a quick vid of what the gameplay may be like. Please note some things may and probably will change.
Click here to go to the project page for Lilykin .