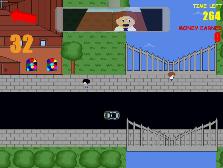 Woohoo! What a great way to come home from work! Here it is folks a new game by
Craig Tait
The game is called taxi were you quickly have to pick up and drop people off. Gotw anyone?:)
Comments from the author:
Quickly pick up and drop off passengers in your Taxi and earn as much money as you can! Take too long and your passenger may just give up and find his/her own way! I originally made this a year ago but touched it up a bit recently and decided (with some persuasion from Va1entine) to upload it finally.


Click here to go to the download page for Taxi.