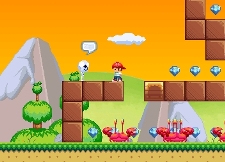 Very well done platformer with cute and fluffy graphics, this is just a demo but well worth your time.
Comments from the author:
Two unlikely friends thrown together by the Wizard to retrieve his magical gems. Skin is fast and agile, Bones is slow but tough. Use their different abilities and work together as you journey through strange and wonderful worlds. Fast frantic platform fun, mixed with a dash of puzzle elements will keep you on your toes, as you switch between Skin and Bones and try and complete each level.


Click here to go to the download page for Skin & Bones.