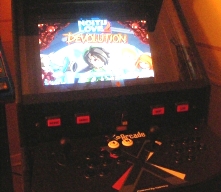 Jason Orme
has done something many of us including myself have been dreaming about... He build his very own Klik-Arcade! Oh Yea! He converted an old Simpsons Arcade game into something rather special. I'm in total shock, in a good way!. It is very good to see things like this happening, great Job Jason, keep us updated!
Comments from the Jason:
Well for the past week i've been converting my "The Simpsons" 4 player arcade machines into a 2player Mame cab. Its still early days in the project but its shaping up pretty quickly. So I decided i'd try somthing different to the 20 plus game emulators installed. So I downloaded Noitu love 2, and thats when it all started..


Click here to go to the klik-arcade's forum page with many more pictures!.