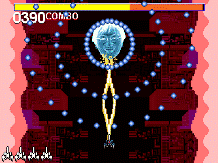 Made in one day by
»xerus
and
Derek Yu
.. well i could really stop my description right here since everyone would have pressed the download link by now. But in the event you got to this far let just say the game is already a winner because of the name. Diamond Densetsu Gaiden! It just rollls of the tongue indeed. (yes i have a thing for weird names)
Comments from the Author:
Romeo Pie Software Inc. presents a landmark title in the realm of PC Shoot Em Up Bullet Hell games. Take on the role of a lone star fighter on your quest to rid the galaxy of the everlasting symphony of the red diamond. This game was made in 1 day between Derek and I, just for fun! Also the original soundtrack is composed by none other than Derek himself. ENJOY


Click here to go to the downloads page for Diamond Densetsue Gaiden!
.. .. K one more time Diamond Densetsu Gaiden !