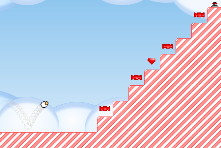 I love it when folks use interesting fluffy new main characters. In this case we have a jumping lamb! created by
Pozik
The game has cute graphics and a high scoring system in place. It gets browny points for that one!
Comments from the Author:
Jumping LAMB (Skaczący Baranek) is a platformer. Your main quest is to collect sweets which are on the whole map... but many things will try to stop you (from small blocks to big monsters ). You have to avoid them!


Click here to go to the downloads page for Jumping Lamb