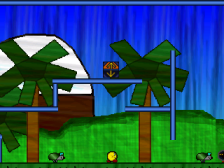 No not me! It is a different Ricky! (but love the name btw, we rickies have to stick together!:)
Ricky
put together some of his unfinished games for us to check out. They do have a nice graphic style to them, and they are open sourced, can't go wrong there folks!
Comments from the Author:
During summer 2007, I half way finished making "Score Go". It was a platform game, but I lost interest in it, so here it is. I also worked on Ladders2. It was supposed to be done in March, but I lost interest in this project as well. So here's my unfinished games open sourced. They contain a test levels, some custom movements, and graphics.


Click here to go to the downloads page for Ricky's unfinished games
Also if you are looking for some good engines, then it is your lucky day because
Zephni
has uploaded some very cool examples.
A Dialogue Engine
and
a Battle Engine