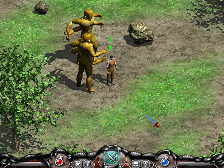 Fanotherpg
submitted a project and a download today. First up is a new project created by according to him 2 madmen from poland. (including himself) WoW. This project called Madness: In searching of life made in mmf2 is going to be amazing.
Comments from the Author:
Madness: In searching of life is project created by Temporal cooperating with Fanotherpg in Multimedia Fusion 2, which should help in developing RPG productions in clicks.


Click here to go to the project page for Madness
Next up Fanotherpg also submited a new 3dish rpg game called Cade Tower. Hurray for new downloads!
Click here to go to the download page for Cade Tower: Eozsof