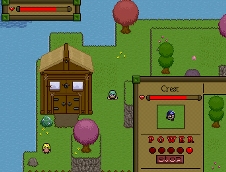 Antworx
has been working on this one for 2 years now but it still came as a surprise to me, wow! The Dreamweaver looks like a quality rpg game in the making. Check out the project page for much more info and pictures!
Comments from the Author:
This is "The Dreamweaver". Ive been working on this game for about 2-3 years ish. It has taken many forms but this is the final product and im happy with how its taking shape. The game is based around a guy called "Crest". He is one of very few Dreamweavers left in the world. The Dreamweaver is of royal decent, in the past the Dreamweavers would fight the Nightmares that would plague the lands. After 100's of years of battle the world is slowing returning to its peacful norm when "Surprisingly" the Nightmares make a devestating return.


Click here to go to the project page for The DreamWeaver