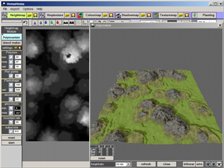 3d Graphic master
Tiles
uploaded a new tool for you all today called: HemaHema (I just love strange names!) Even so Tiles knows what he is doing and this is a quality piece of software folks. And even better it is free!
Comments from the Author:
HemaHema is a tool to create 3D heightmap landscapes. You can export the result as OBJ then, or you can just export the heightmap and its texture. And use the result in a 3D game then for example. Everything started with a helpertool to create a texture for a landscape. The goal was the four coloured mask for the multitexture terrain shader of the 3D Gamestudio, with which you can mix four textures together. A heightmap heightmasker. And that's where the name comes from. The original version is the colourmap panel.

Click here to go to the download page for HemaHema