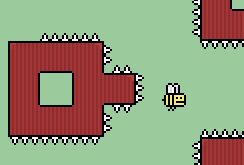 grickmin
submitted his game for the Twenty Event competition! And you know what? It is pretty excellent, guide your cute little bee filled trough a maze with spikes! Be careful little bee, but remember to just Bee-Yourself!
Comments from the Author:
Hereīs my entry for The Twenty Event competition! Itīs called Brave Honey Bee and itīs about a brave bee who is searching for the stolen honey!

Click here to go to the download page for Brave Honey Bee.
Also worth
noting
are 2 other downloads first up is
Pixelthiefs
Blobquest
And a very well coded Platform enemy movement made by
Phizzy
clicky here for the engine.