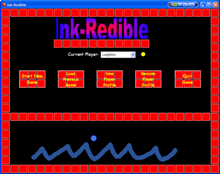 Leighton James
has graced us with his latest demo called Ink-Redible. He has been working hard on this one and it shows! Give it a go folks since he is looking for some constructive comments for the demo.
Comments from the Author:
this is the ten level demo of my project Ink-redible. I have put the demo here aas it doesn't seem to be getting much exposure on the projects page. I want to know what people think of this and need some constructive criticism on it before i continue (if i do at all).

Click here to go to the download page for Ink-Redible.
And for anyone who has been wondering i have been sick with this frickin caugh and fever thing and my voice has but all completely dissapeared, i'm on some pills now but being really sick is just annoying, lol. Updates from me should resume per normall as i can find my way back to the computer:)