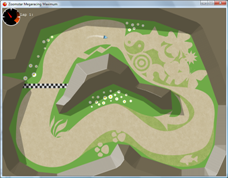 Wow something different today
Nick-
uploaded his latest top-down-view racing game, and it rocks! I love the graphic style in this one.
Comments from the Author:
The time for fast racing and dangerous circuits. In this game you must race your hover car around the track for a set number of laps. The amount of laps you must do depends on which cup you are racing for. To be honest, it's not really a race, since there are no other racers on the track. All you need to do is survive. Your car will explode if it hits an obstacle or comes to a halt.

Click here to go to the download page for Zoomstar Megaracing Maximum.
And also very different is
Hempuli
latest game called: Pencil & Paper 20 event deluxe version. You can check that one out
right here