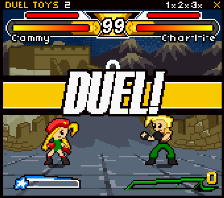 Let us celibrate the weekend with some great new games! Who said the community is dying? These games are sure to splash things up! First up is Duel Toys 2 the test version made by
Diefox
commence drooling folks!
Comments from the Author:
Hi guys, this is the test version of Duel Toys 2, just to make the last adjustments to the fighting engine and detect bugs. Many thinks have to be done yet, like the new RPG mode and the other characters. But I want to make sure that everything is okay before doing that. please, tell me if it feels to different than the other fighting games you have played, if it's too difficuelt or too easy, too slow or too fast and etc.

Click here to go to the download page for Duel Toys 2 test version.
Next up is EIM created by
t0nad0
for the 20 event compo, it is a nice little puzzler game, very impressive!
Click here to go to the download page for EIM