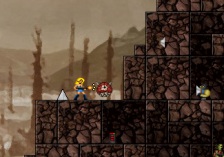 Let us continue on shall we? Next up is a new game created by
Paul Schneider
called GunGirl. Did Paul just really create an action packed game featuring a hot babe that has to fight of zombies? Where is the download button!
Comments from the Author:
The world has been overrun by zombies! Humanity is lost. You play as a blonde chick with a big gun who has to fight her way through the zombie hordes. To survive, you have to talk with npcs, find powerups, get new weapons and of course never run out of ammo.

Click here to go to the download page for Gungirl.
And to round everything off we have another cool game created by
Impresario
also for the 20 event compo, this is a very original idea folks and plays very well, mighty good job mr imresario mighty good!!
Click here to go to the download page for Abduction