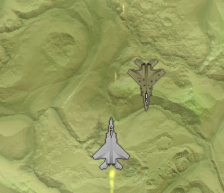 You know it would be nice if there would be more of these type of games being released.
stillnoct
just uploaded a demo of his latest game called: Air Combat Fusion.
Comments from the Author:
This is a new game im making. It's about flying your airplane and shooiting down enemys. It's pretty fun acctually. It's not ment to be a big-epic-super bingo-bingo-game, just a small arcade game. This game features some awsome "ADD"-effects and simple gameplay.

Click here to go to the download page for Air Combat Fusion.